5 Reasons to Favor Core Fixed Income in 2019
January 11, 2019 By Sage Advisory
---
Higher Volatility. Even after factoring in some spread widening during the year, Sage believes 3% to 4% return is easily achievable for core fixed income. And with equity return expectations below average, in the 5%-to-6% range, and accompanied by greater downside risks and high volatility, fixed income is the more attractive asset class from a risk-reward perspective going into the new year.
Equity Volatility (VIX) 3-Month Average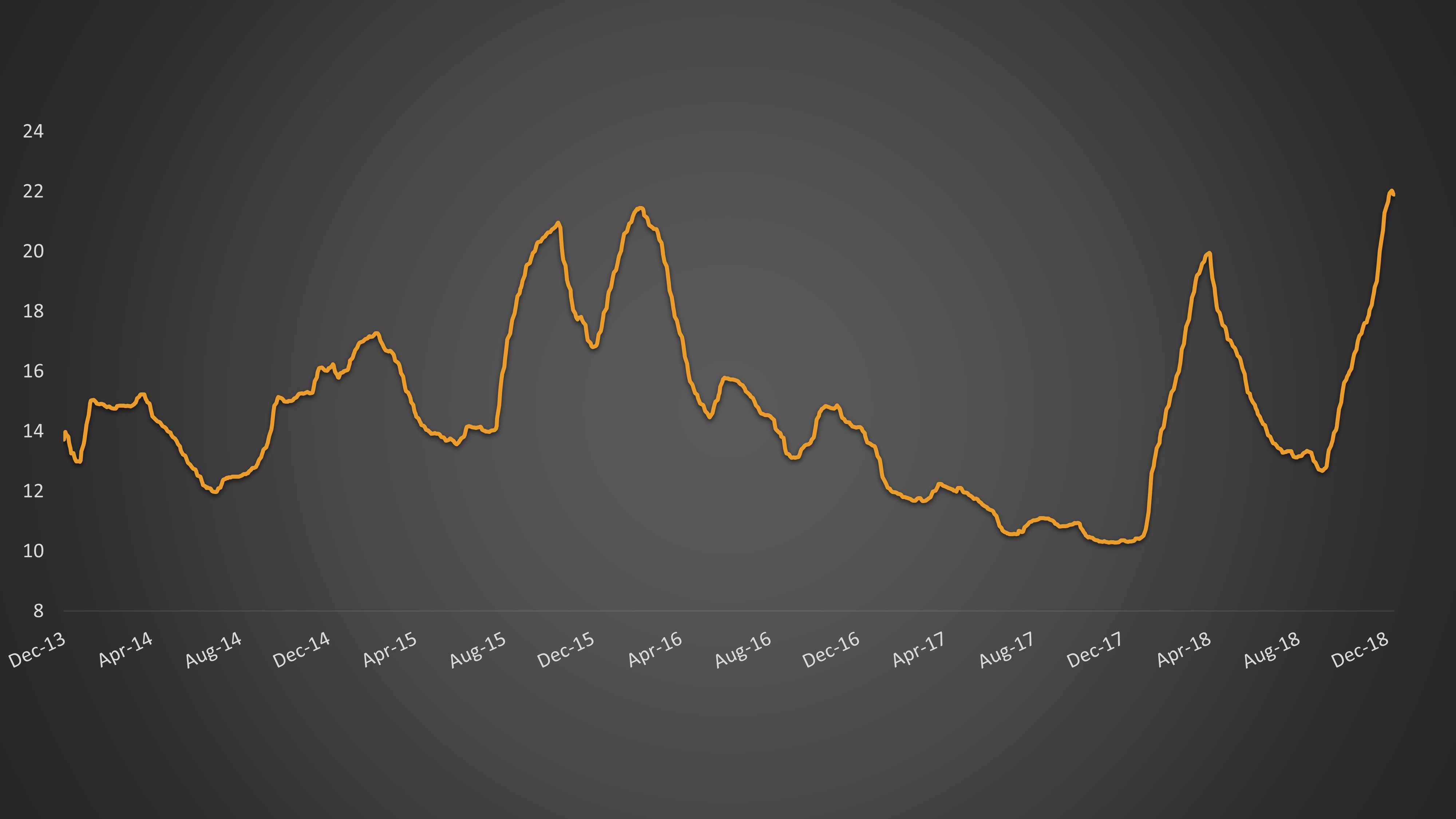 Higher Yields. For income seekers, yields on diversified core investment grade fixed income are now 3.25%, up 60% from just three years ago, and are now well above equity dividend yields. This should add some stability to returns. For more risk-averse investors, with the curve flattening, short-duration strategies now offer attractive yield with limited interest rate risk.
Core Bond and Equity Yields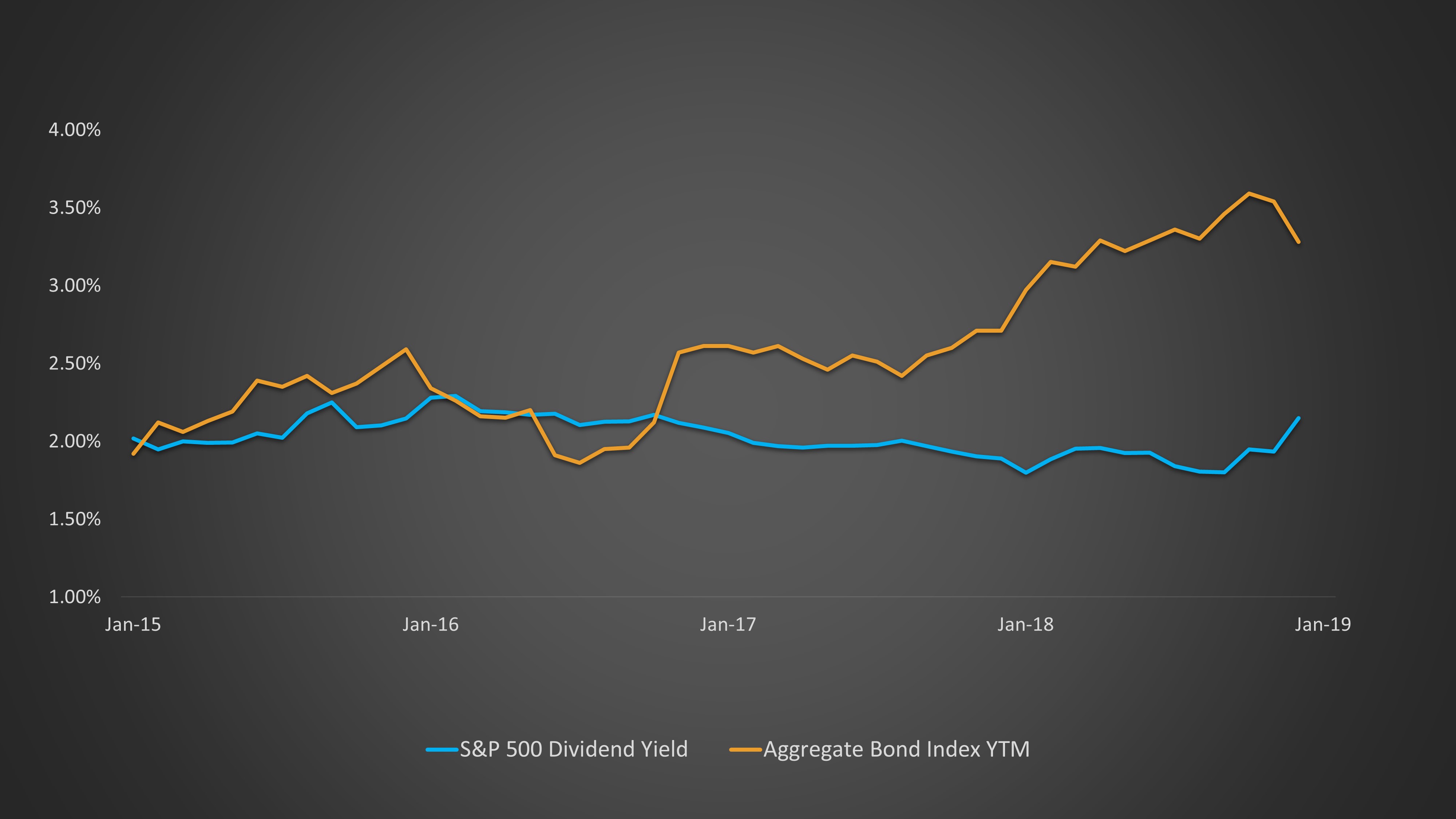 Source: Bloomberg
The End of the Fed cycle. Unlike equities, which experienced a deteriorating picture into year end, bond investors enjoyed improving returns throughout the year, with the Aggregate Index posting better returns each subsequent quarter. This is not an unusual pattern, as bond returns are typically higher into the end of a Fed cycle, as investors reap the benefits of higher yields and long rates stabilize in anticipation. The environment improves further for bond investors post-Fed cycle, with returns for the 12 months following the end of a Fed cycle almost double the longer-term average.
Core IG Bond Returns: Long-Term vs. Post-Fed Cycle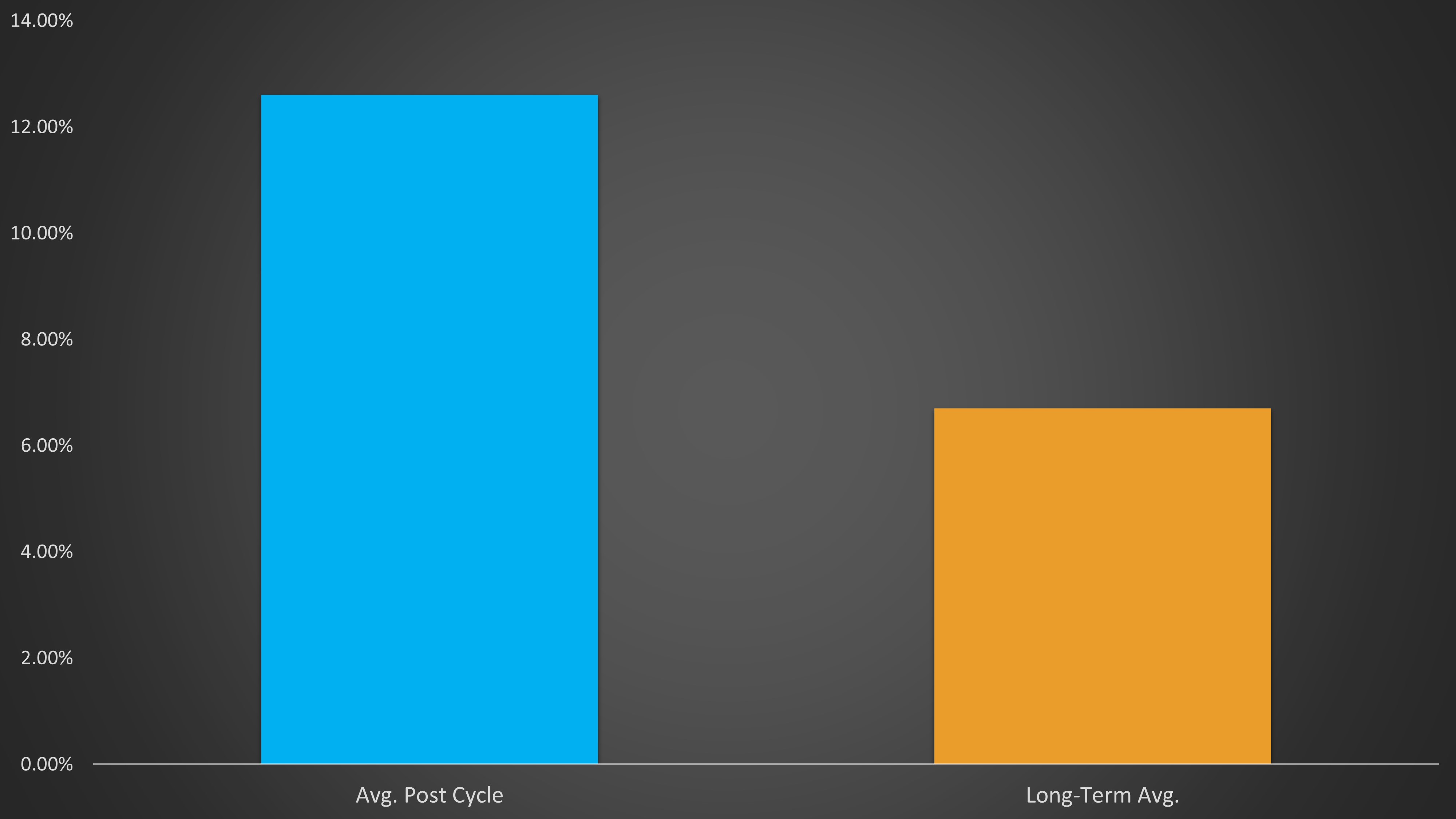 Source: Bloomberg. Average post-cycle includes the last six Fed cycles, and long-term average is since 1985.
Equity Headwinds/Earnings Peak. Equities face greater macro headwinds relative to bonds at this point in the form of decelerating global growth and earnings, tightening liquidity from central banks, and a host of geopolitical tail risks. If earnings have indeed peaked for the cycle, the rollover process has not historically been pleasant for equity investors.
S&P 500 12-Month EPS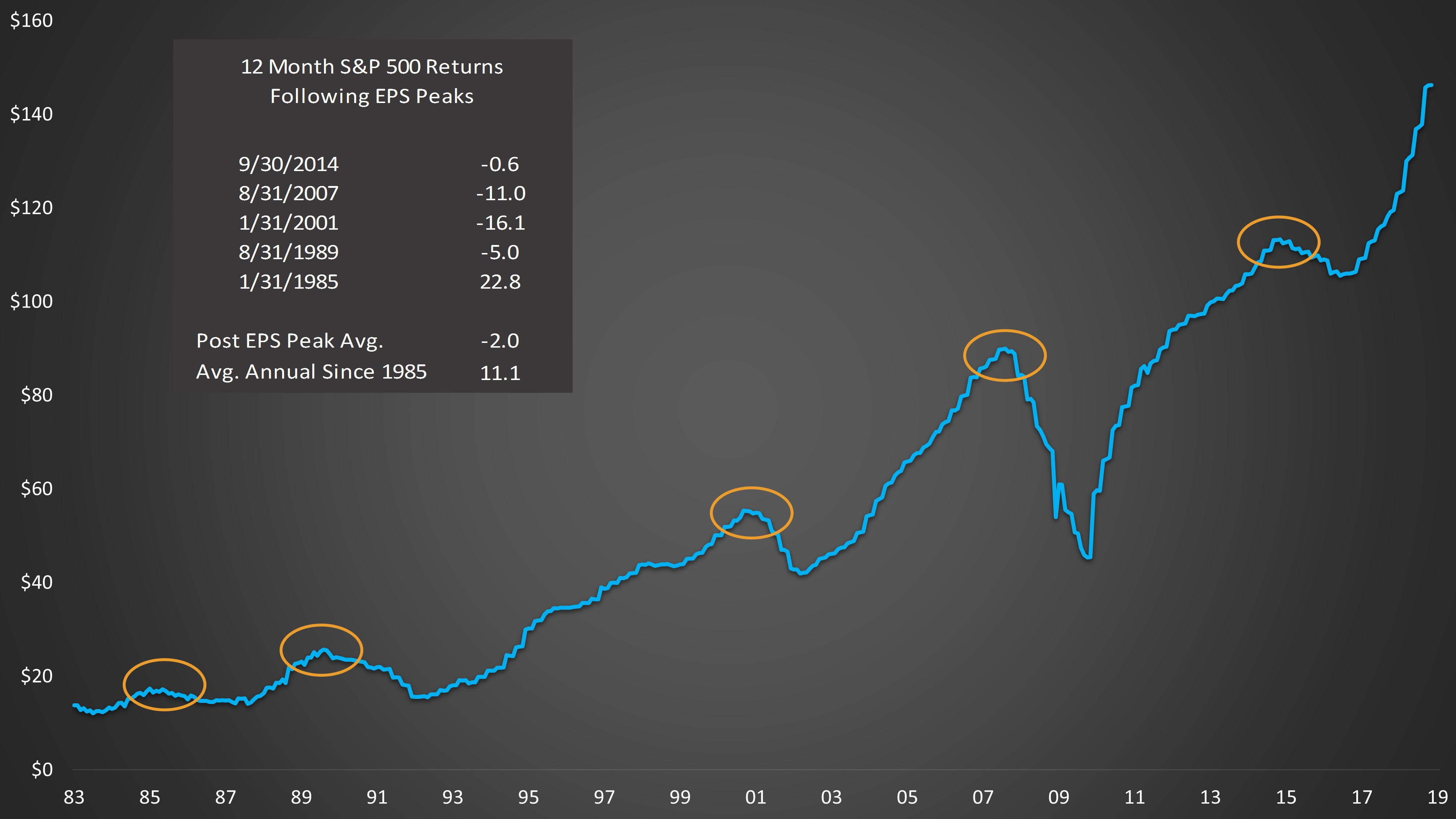 Source: Bloomberg
Macro Risks Point to High-Quality Core Fixed Income Outperformance. Generating returns in fixed income will not come without its challenges, however, as some of the same headwinds causing a more bearish outlook for equities are also likely to impact credit spreads and the riskier segments of the global bond market. Tightening liquidity conditions, declining earnings growth, and growing recessionary concerns is not the most supportive backdrop for credit spreads, and we expect widening pressures throughout 2019, especially among the lower-quality tiers. This suggests the best returns for 2019 are likely to come from higher-quality core fixed income. This view is also supported by our post-Fed cycle return analysis, which shows that while historically all major bond segment returns are higher post-Fed cycle, the advantage of credit over Treasury returns is diminished and core IG outperforms high-yield.
Bond Returns: Long-Term vs. Post-Fed Cycle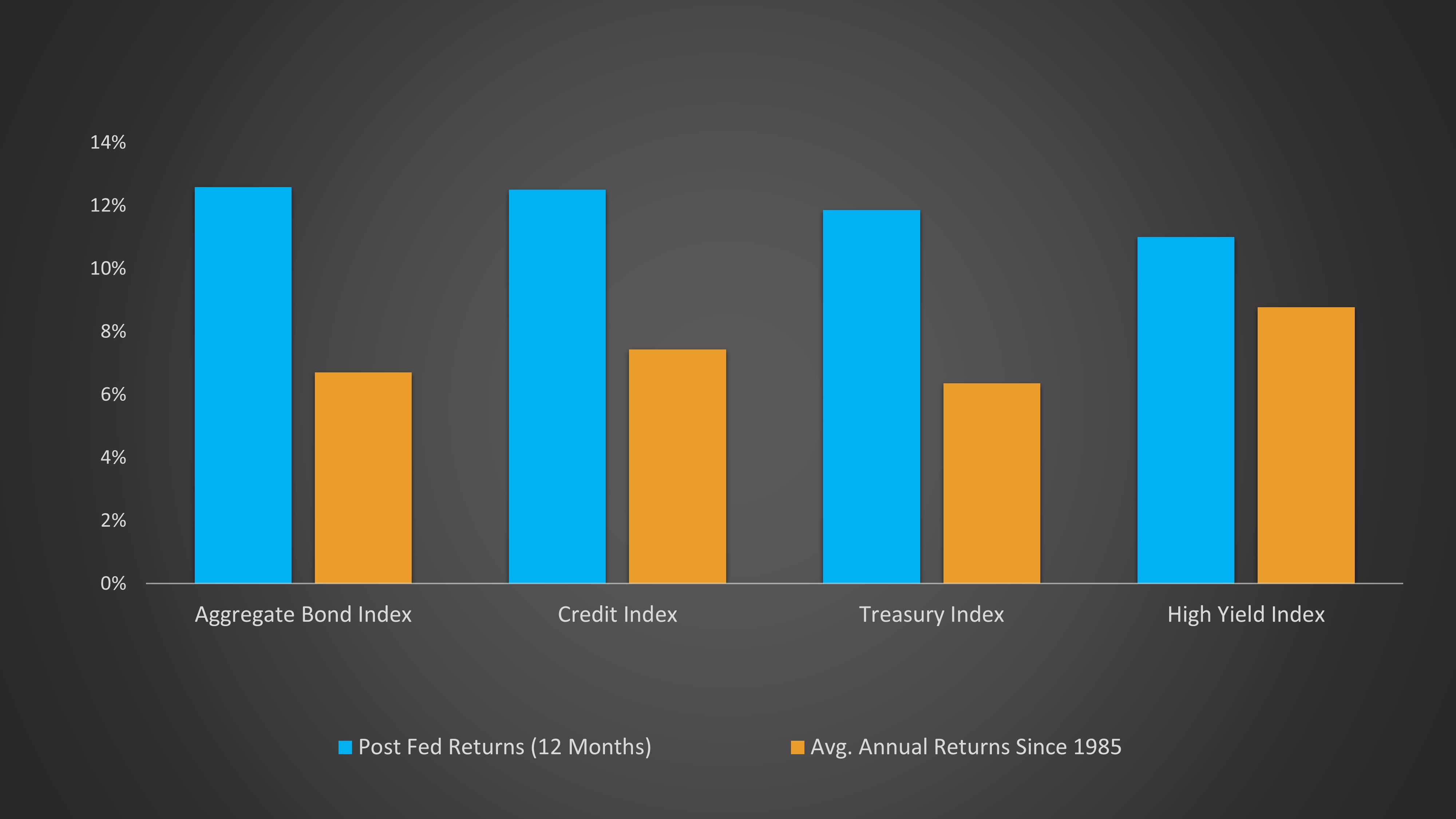 Source: Bloomberg
Disclosures: This is for informational purposes only and is not intended as investment advice or an offer or solicitation with respect to the purchase or sale of any security, strategy or investment product. Although the statements of fact, information, charts, analysis and data in this report have been obtained from, and are based upon, sources Sage believes to be reliable, we do not guarantee their accuracy, and the underlying information, data, figures and publicly available information has not been verified or audited for accuracy or completeness by Sage. Additionally, we do not represent that the information, data, analysis and charts are accurate or complete, and as such should not be relied upon as such. All results included in this report constitute Sage's opinions as of the date of this report and are subject to change without notice due to various factors, such as market conditions. Investors should make their own decisions on investment strategies based on their specific investment objectives and financial circumstances. All investments contain risk and may lose value. Past performance is not a guarantee of future results.
Sage Advisory Services, Ltd. Co. is a registered investment adviser that provides investment management services for a variety of institutions and high net worth individuals. For additional information on Sage and its investment management services, please view our web site at www.sageadvisory.com, or refer to our Form ADV, which is available upon request by calling 512.327.5530.