Now is the Time to Reduce BBB Credit Risk to Protect Against Principle Loss
March 18, 2019 By Sage Advisory
---
by Jeffrey Timlin
Due to an extremely strong technical environment, municipal yields have experienced a significant decline from the highs of 2018. In addition, credit spreads have tightened to historic lows and offer limited income reward relative to the risk of principal loss. A powerful portfolio management tool that Sage utilizes to optimize risk and reward characteristics is spread valuation analysis. In a historically wide spread environment, Sage would be allocating a larger percentage of the portfolio to lower-rated credits, due to the advantageous income environment. Alternatively, when spreads are near their historic low, Sage will reduce exposure to lower-rated credits to lock in positive returns as well as protect against principal loss.
As show in the chart, the additional spread that municipal investors are offered for owning BBB-rated bonds over Single A-rated bonds is currently 70 bps. Although this may seem attractive from a yield/income perspective, the probability of principle loss remains elevated.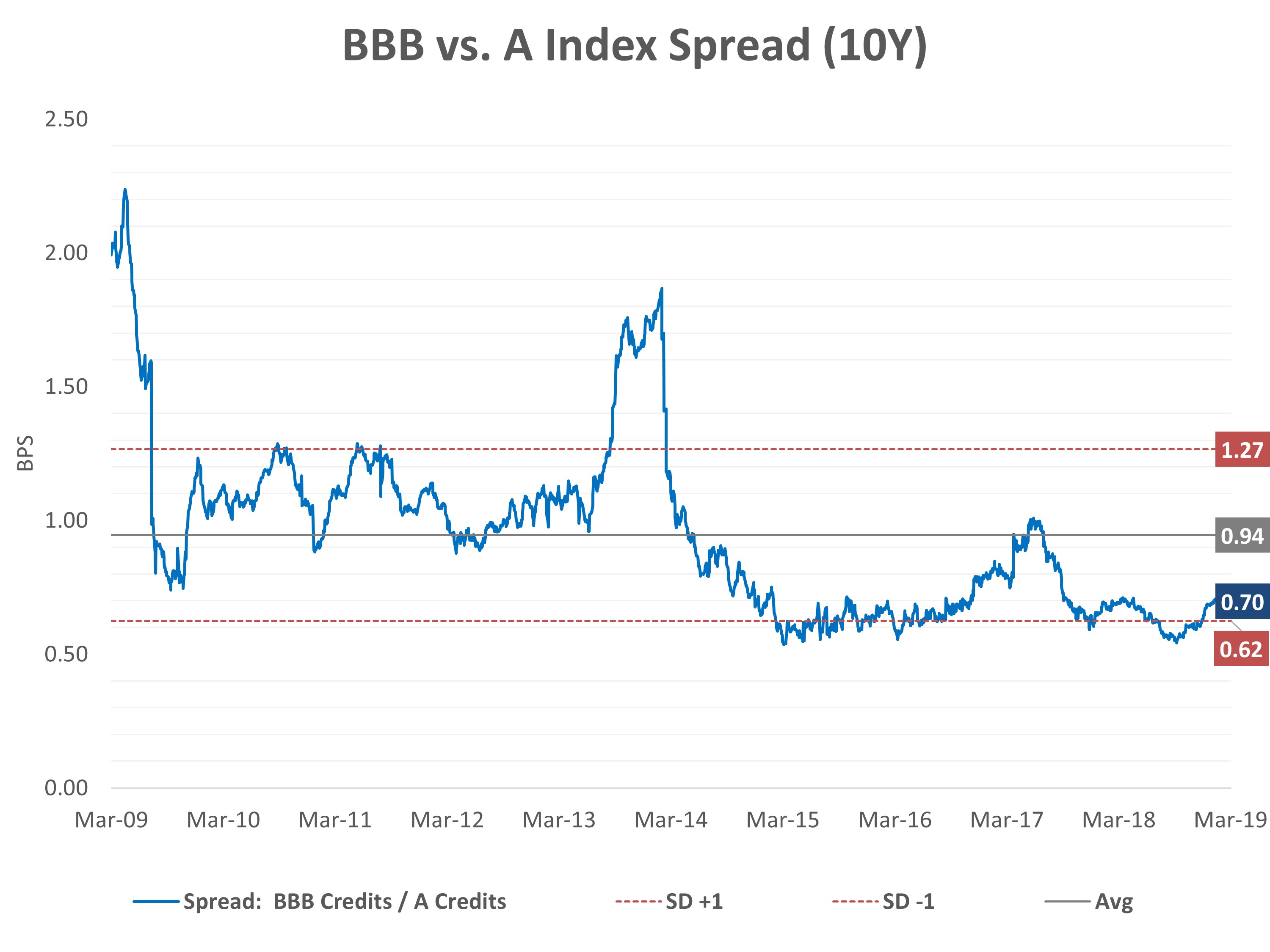 Source: Bloomberg
As an example, let's take a generic BBB-rated bond with a five-year maturity, a 5.00% coupon and a four-year duration. If BBB spreads quickly revert to the 94-basis point average (shown in gray), the principle loss relative to a comparable A-rated bond would almost be 1.00%. However, if BBB bonds trade back towards the upper end of their historic range (127 bps shown in red), the principle loss under this scenario would be approximately 2.25%. For an investor looking to reduce credit risk and who can accept a slight-to-modest reduction in income, reducing exposure to BBB bonds and swapping into higher-rated credits seems like an advantageous tactical trade until the technical environment normalizes.
Disclosures: This is for informational purposes only and is not intended as investment advice or an offer or solicitation with respect to the purchase or sale of any security, strategy or investment product. Although the statements of fact, information, charts, analysis and data in this report have been obtained from, and are based upon, sources Sage believes to be reliable, we do not guarantee their accuracy, and the underlying information, data, figures and publicly available information has not been verified or audited for accuracy or completeness by Sage. Additionally, we do not represent that the information, data, analysis and charts are accurate or complete, and as such should not be relied upon as such. All results included in this report constitute Sage's opinions as of the date of this report and are subject to change without notice due to various factors, such as market conditions. Investors should make their own decisions on investment strategies based on their specific investment objectives and financial circumstances. All investments contain risk and may lose value. Past performance is not a guarantee of future results.
Sage Advisory Services, Ltd. Co. is a registered investment adviser that provides investment management services for a variety of institutions and high net worth individuals. For additional information on Sage and its investment management services, please view our web site at www.sageadvisory.com, or refer to our Form ADV, which is available upon request by calling 512.327.5530.