Company Transparency in the Time of COVID-19: An Update on 3M's Missteps
May 6, 2020 By Sage Advisory
---
The N95 mask has become a symbol of the fight against COVID-19. Named for its ability to block 95% of airborne particles, it has become vitally important to protect health care workers fighting deadly viruses. In the wake of the COVID-19 pandemic, N95 masks are in dangerously short supply. Skyrocketing demand and diminishing supply have left health care providers caring for ill patients without protective personal equipment (PPE), such as the N95 masks, gloves, and surgical gowns. Many have reported being forced to ration or reuse PPE. Medical staff have even taken to social media to communicate the intensity of the situation, making #GetMePPE a trending topic. It has been estimated that fighting COVID-19 will require 3.5 billion masks in the U.S. alone.
Earlier this year we published a perspectives piece on 3M's chemical industry and its involvement with PFAS (per- and polyfluoroalkyl substances) contamination. We called attention to the company's questionable business ethics that were brought to light when it failed to effectively manage PFAS, leading to a decades-long national health crisis. However, 3M's chemical branch only makes up less than a third of its revenue. The company has a diverse business model and is also a large producer of medical equipment and supplies, bringing 3M's name to a multitude of national headlines over these past weeks. While several companies make N95 masks, 3M has a near monopoly on production. Other respirators that work to block 95% of airborne particles exist, but the FDA has only approved N95s for use in the U.S., putting 3M in a unique position of great responsibility.
Mark Cuban, owner of the Dallas Mavericks, has become an unlikely voice in advocating against PPE price gouging. When Cuban began digging into the N95 market, his goal was to get hospital workers the protective equipment they need. Instead, he found his inbox flooded with emails from distributors reselling masks with significant price markups – a normal N95 mask costs anywhere from $0.50-$1 –  Cuban was offered the masks at $8 each. 3M does not sell its masks directly to consumers, but rather uses licensed distributors as middlemen. While 3M has said it will not raise prices for medical equipment, a lack of supply, price consistency, and information have led to a free-for-all among companies wanting to resell the masks. This had led to extreme price gouging, with masks being sold at highly inflated prices – like the ones offered to Mark Cuban. State governors across the U.S. have reported being forced to partake in bidding wars for N95 masks, allowing states that can afford to pay the premium to take home the order.
When asked about distributor price gouging, a representative for 3M has said the company cannot control prices retailers and dealers charge for 3M products. A statement released by the company's CEO Mike Roman promises that 3M will be working with federal and state governments to prevent price gouging and counterfeiting. Already, 3M has filed multiple lawsuits against those it has found profiteering; however, we find this situation reminiscent of 3M's management of PFAS; the company has exhibited a stark lack of transparency and has failed to be proactive.
In normal circumstances, there is no reason 3M should not maintain its relationships with mask distributors – but these are not normal times. We believe 3M could have easily required distributors to sell directly to hospitals and health care providers, while threatening to end contracts with distributors who refused. 3M chose not to do so. Instead, for weeks the company sat on the sidelines while distributors increased prices and American health care providers went without PPE.
In late March, the Trump Administration invoked the Defense Production Act after it discovered that 3M was still exporting masks to Canada and Latin America. After determining that cutting off mask supplies to other countries would prove detrimental to the United States, 3M and the White House announced that the company will import 166.5 million respirators to the U.S. over the next three months while also continuing to fulfill foreign contracts. While the agreement was amicable, President Trump's initial public frustration with 3M hurt the company's brand image and could have been avoided if 3M had chosen to better communicate with the country about what is happening in the N95 mask market.
Beyond Scotchgard and Command Strips, 3M's participation in the health care industry means the company has a duty to serve its stakeholders during this time to increase production of medical equipment and supplies and prevent price gouging and counterfeiting. 3M has worked to increase N95 capacity, but supply has not met demand and the company has not done enough to effectively combat price gouging. Lack of communication has led to wasted resources and time. We believe the company's lack of transparency reinforces our view that 3M's weak corporate governance presents material ESG risks that are unlikely to abate anytime soon.
Timeline of 3M's Missteps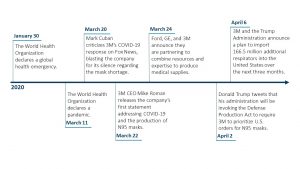 Disclosures: This is for informational purposes only and is not intended as investment advice or an offer or solicitation with respect to the purchase or sale of any security, strategy or investment product. Although the statements of fact, information, charts, analysis and data in this report have been obtained from, and are based upon, sources Sage believes to be reliable, we do not guarantee their accuracy, and the underlying information, data, figures and publicly available information has not been verified or audited for accuracy or completeness by Sage. Additionally, we do not represent that the information, data, analysis and charts are accurate or complete, and as such should not be relied upon as such. All results included in this report constitute Sage's opinions as of the date of this report and are subject to change without notice due to various factors, such as market conditions. Investors should make their own decisions on investment strategies based on their specific investment objectives and financial circumstances. All investments contain risk and may lose value. Past performance is not a guarantee of future results.
Sage Advisory Services, Ltd. Co. is a registered investment adviser that provides investment management services for a variety of institutions and high net worth individuals. For additional information on Sage and its investment management services, please view our web site at www.sageadvisory.com, or refer to our Form ADV, which is available upon request by calling 512.327.5530.