A Reason to Love the MTA
March 7, 2019 By Sage Advisory
---
Due in part to ongoing fiscal challenges, New York's Metropolitan Transportation Authority (MTA) bonds are currently trading at attractive levels. At 55 bps over comparable AAA bonds, 10-year MTA bonds rated A1 by Moody's offers investors an opportunity to pick up some additional yield without significant credit risk.
As one the oldest and largest transportation networks in the U.S., the authority remains a vital part of New York's infrastructure and an essential component of commuting for New York, New Jersey, and Connecticut residents. Despite structural deficiencies, Governor Andrew Cuomo, Mayor Bill de Blasio, and many other local leaders are heavily invested in the ongoing success of the MTA. A recent 10-Point Plan to transform and fund the MTA has significant support from both parties. For those who can handle modest credit risk and a bit of spread volatility, MTA bonds offer a good entry point.
As shown below, by selling out of 10 Yr AAA Georgia State GOs (cusip 373385CN) at a 2.17% yield and purchasing 10 Yr A1 MTAs (cusip 59261APZ) at a 2.72% yield, an investor can capture 55 bps of additional income with the same duration/interest rate risk.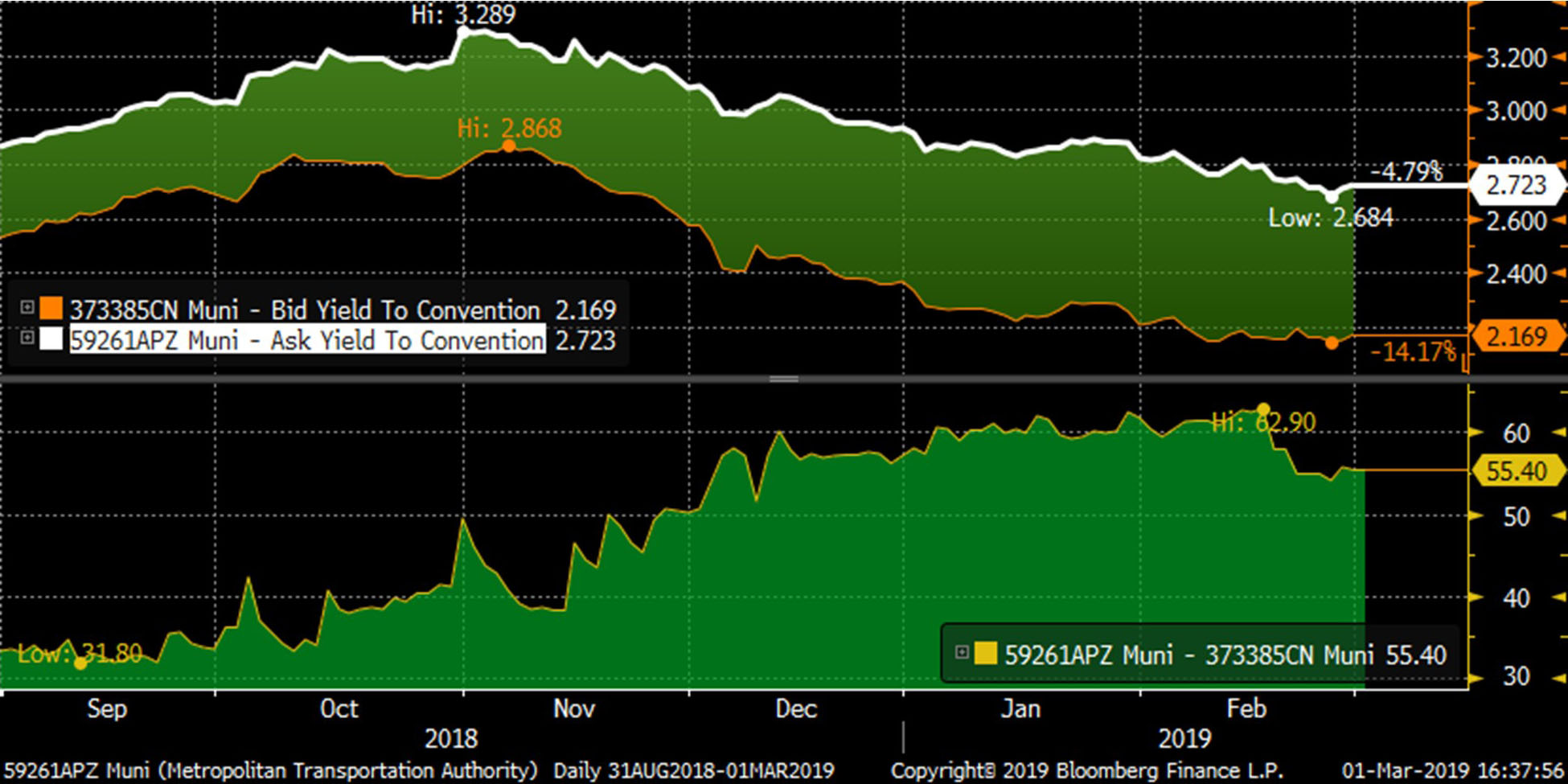 Disclosures: This is for informational purposes only and is not intended as investment advice or an offer or solicitation with respect to the purchase or sale of any security, strategy or investment product. Although the statements of fact, information, charts, analysis and data in this report have been obtained from, and are based upon, sources Sage believes to be reliable, we do not guarantee their accuracy, and the underlying information, data, figures and publicly available information has not been verified or audited for accuracy or completeness by Sage. Additionally, we do not represent that the information, data, analysis and charts are accurate or complete, and as such should not be relied upon as such. All results included in this report constitute Sage's opinions as of the date of this report and are subject to change without notice due to various factors, such as market conditions. Investors should make their own decisions on investment strategies based on their specific investment objectives and financial circumstances. All investments contain risk and may lose value. Past performance is not a guarantee of future results.
Sage Advisory Services, Ltd. Co. is a registered investment adviser that provides investment management services for a variety of institutions and high net worth individuals. For additional information on Sage and its investment management services, please view our web site at www.sageadvisory.com, or refer to our Form ADV, which is available upon request by calling 512.327.5530.