Notes from the Desk: Central Banks Are No Longer a Major Pain Point
February 6, 2019 By Sage Advisory
---
With the interest rate markets pricing in no hikes for 2019, there was room for the FOMC to disappoint at its January meeting; however, they ended up surpassing the most dovish of expectations. As a result, risk assets rallied sharply in January as global central banks followed in the Fed's footsteps in easing financial conditions.
In his statements, Chairman Powell signaled that the case for additional rate hikes had weakened and declined to rule out that the next move in rates would be lower. Most importantly, the Fed said that it was prepared to adjust its balance sheet normalization to economic and financial developments. Basically, if raising rates or lowering the size of the Fed's balance sheet turns out to negatively affect markets, Powell and the FOMC would adjust policy as necessary.
Thus resumes the cycle of central bank policy acting in response to financial markets. The chart below shows the 12-month forward federal funds rate compared to the S&P 500. Expectations of Fed policy have traded in lockstep with the equity markets.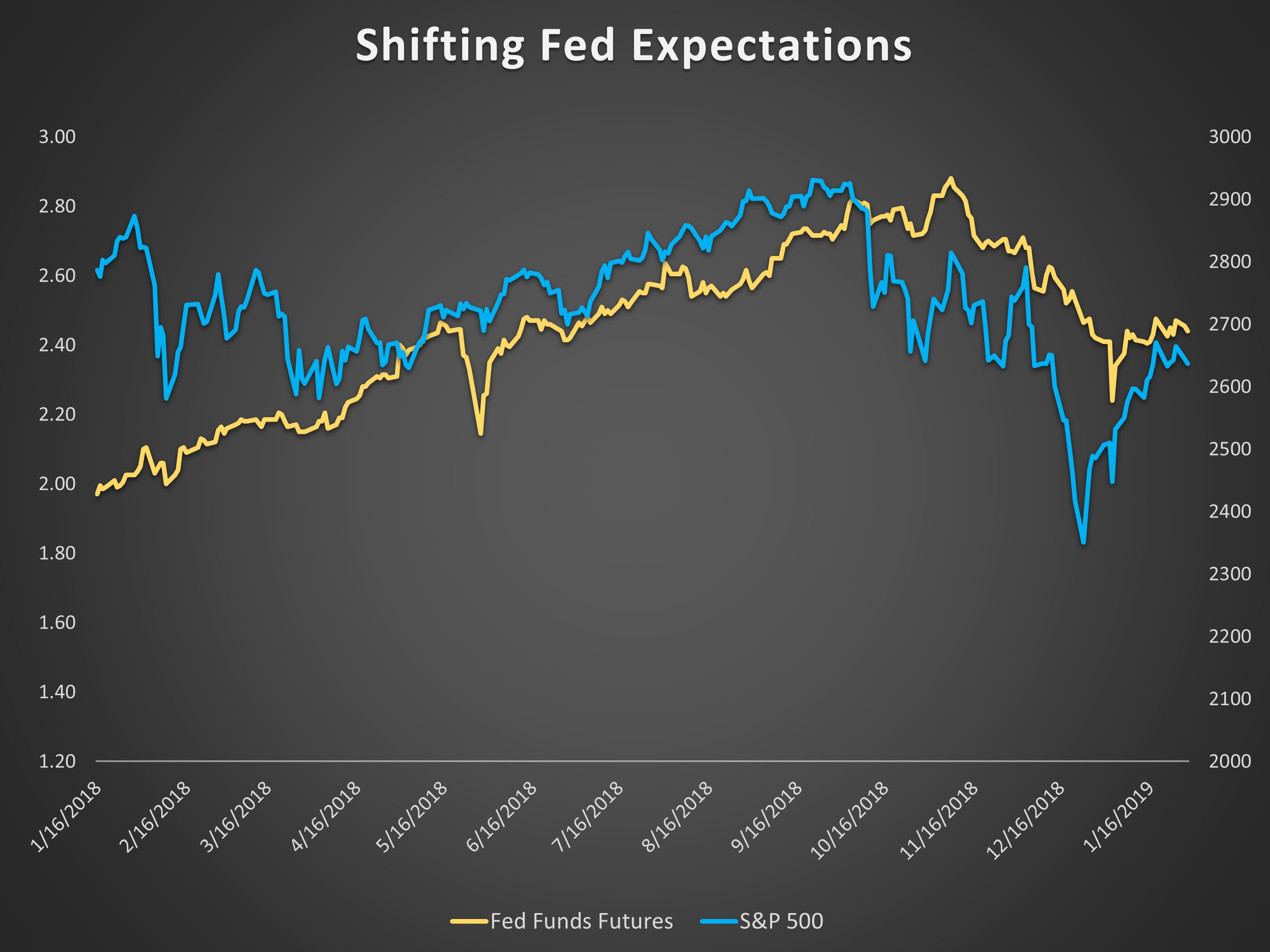 Given our focus on balance sheet policy as a source of risk asset fragility, this action removes a major point of uncertainty for financial markets over the next few months. We're still wary of a material slowing in the global economy, but as of this week – it doesn't look like central banks will be part of the problem.
Disclosures: This is for informational purposes only and is not intended as investment advice or an offer or solicitation with respect to the purchase or sale of any security, strategy or investment product. Although the statements of fact, information, charts, analysis and data in this report have been obtained from, and are based upon, sources Sage believes to be reliable, we do not guarantee their accuracy, and the underlying information, data, figures and publicly available information has not been verified or audited for accuracy or completeness by Sage. Additionally, we do not represent that the information, data, analysis and charts are accurate or complete, and as such should not be relied upon as such. All results included in this report constitute Sage's opinions as of the date of this report and are subject to change without notice due to various factors, such as market conditions. Investors should make their own decisions on investment strategies based on their specific investment objectives and financial circumstances. All investments contain risk and may lose value. Past performance is not a guarantee of future results.
Sage Advisory Services, Ltd. Co. is a registered investment adviser that provides investment management services for a variety of institutions and high net worth individuals. For additional information on Sage and its investment management services, please view our web site at www.sageadvisory.com, or refer to our Form ADV, which is available upon request by calling 512.327.5530.